Located in West Palm Beach and Serving the Surrounding Areas
Located in West Palm Beach and Serving the

Surrounding Areas
Sewer Cleaning & Maintenance
COMMERCIAL SEWER SERVICES
Are the drains in your property or business making funny noises or backing up? Seacoast Septic & Plumbing is a full-suite sewer service who specialize in flushing and cleaning main and secondary sewage lines. We offer unbeatable response times (24 hours a day) and competitive low pricing that won't leave a great big hole in your pocketbook.
There are a number of reasons you may be having issues with your pipes and could need plumb-ing sewer repair. Don't wait to address plumbing hazards that can lead to costly water damage to your investment. Our high-tech equipment means we can diagnose the core of the problem right away allowing us to offer a low quote on a solution that will fix the problem once and for all.
Sewer cleaning can be a dangerous endeavor if you don't have the right gear and are not trained in the latest safety and industry best practices. Our technicians have the depth of knowledge and certifications to locate and destroy blockages in your indoor plumbing no matter how large your property or facility is.
We use advanced high velocity jetting machinery to clear grime and buildup of all types. Here are some of the telltale signs you may be in need of a good sewer drain cleaning:
There is a discharge or backup coming from your sewers.
You can smell bad odors coming from your pipes or drains.
You're experiencing flooding in your basement or in other areas of your property.
You need to locate sewer connections for upgrades or more information.
You suspect tree roots have penetrated the lines.
Appliances like washing machines and dishwashers are backing up.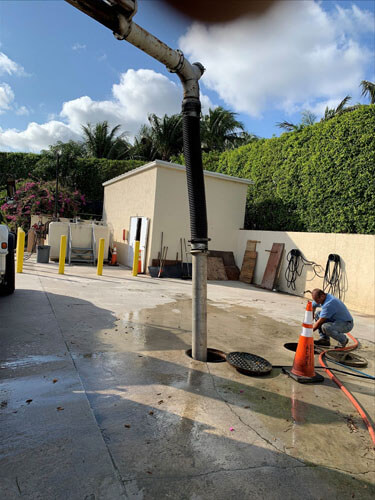 We can help you resolve and prevent any of these sewer problems and more. Our estimates are fair and upfront. You'll never see any unexpected or hidden charges on your final bill.
You notice your basement is filling up with water or your lavatories are getting smelly because something is preventing your toilets from draining as they should. All of the sudden you're frantically searching for sewer repair instead of enjoying a juicy burger.
You need a value rate option that puts your comfort and peace of mind first. We stand out from other sewer cleaning companies in our commitment to getting it right for you. We make even the nastiest raw sewage situations easy, simple and clean.
Advanced Sewer Line Cleaning Makes Your Pipes Like New Again
Older pipes don't always necessarily have to be replaced to function like they are brand new again. Sometimes a good inspection, flushing, and thorough cleaning are all it takes to clear out the internal arteries that run throughout your property. If you are buying a new property, an inspection is a great way to discover any potential problems you may find early on.
Give us a call today to talk to one of our top sewer service specialists. We respond to your calls 24/7/365.
We know all too well that a plumbing or septic issue can strike at any time day or night. If you are awoken in the middle of the night to a foul smell coming from where your septic tank is located, don't wait until the morning to deal with the issue. Our experts will be by your side ASAP to properly diagnose and resolve your issue with minimal interruptions to your life.
SERVICING YOU

PEACE OF MIND